You can join any team that sends you an invitation from an app push notification or from within your Teams page. Let us show you how.
Joining Teams
To join a team, first, an Admin or Coach on the team will need to invite you to join. When they do this, either or both of these two things may happen:
If you are logged into the TritonWear app on your phone or tablet, the invite will trigger a push notification.
You can accept the invitation using either of these two methods.
From a Push Notification
Step 1: Tap the Notification

Tapping the notification on your tablet or phone will open the app and immediately show you the Accept Invitation pop-up. It will look like this: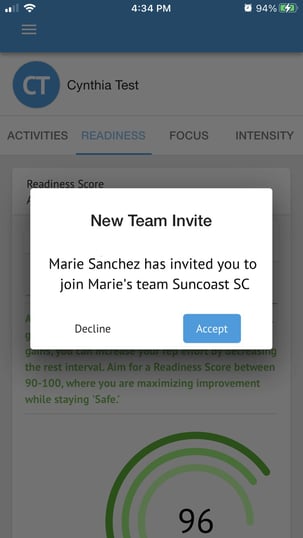 Step 2: Accept the Invite
Tap Accept to join that team. The person who invited you will be notified, and you will now join workouts with that team, set it as your default team and control who on the team sees your data in your Settings.
Note: You are in complete control of what teams you are a member of and what those teams' members can see about you.
If you do not see the notification in your notifications tray on your tablet or phone, or you accidentally swipe it away, you can always find your Team Invite under your
Team Page
.
---
From Your Teams Page
Alternatively, you can also accept a team invite directly from your Teams page on a tablet and computer/laptop.
Step 1: Log in to the TritonWear app
Open the TritonWear app on your tablet, or log in using a browser on a laptop or computer.
Step 2: Visit your Teams page
From the left menu tap on the

Teams icon from the left menu
Step 3: Hit Accept
Inside Teams, you'll see teams with pending invitations first, select the team you wish to join and tap or click accept.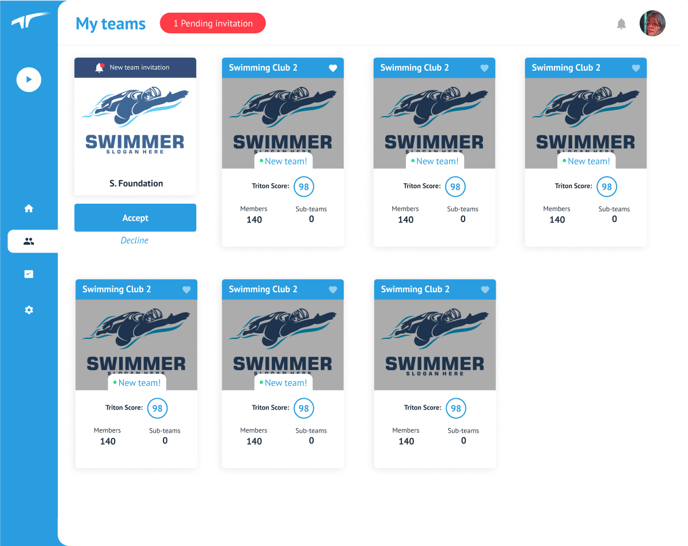 ---