You can join any team that sends you an invitation or leave any team you are a member of at any time.
Joining Teams
Registering from an invite email does not automatically accept the invitation. You must return to the original email and click accept again.
To join a team, first register from a browser on a PC/laptop and then download the app on your mobile/tablet. An Admin or Coach on the team will need to invite you to join.
That will trigger a push notification on your mobile/tablet coming from the app that looks like this:

Click directly on this push notification to go straight to the Accept Invitation option within the app. If you do not see it or swipe it away, ask the person inviting you to re-send the invite. This will trigger a new push notification. Once you do click on it, you will automatically enter the app, and it will look like this: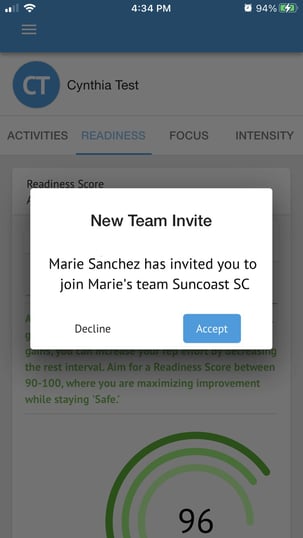 Hit Accept to join that team officially. The person who invited you will be notified as well. You may now join a workout with that team, set that team as your default team and control who sees your data on that team in your Settings.
Note that you are in complete control of what teams you are a member of and what those teams' members can see about you.
Accessing The Teams Section
You can only access the Teams section from a browser on your computer or laptop or the TritonWear app on a tablet.
You may access a single team on mobile by setting it as your default home view in your settings.
For more on what you can see using different devices, check out this infographic.
---
Leaving Teams
To leave a team, log in to the TritonWear app from a browser on your laptop or computer, click the menu in the top left corner and select Settings. Inside Settings, select User Permissions from the left side menu to open the page below.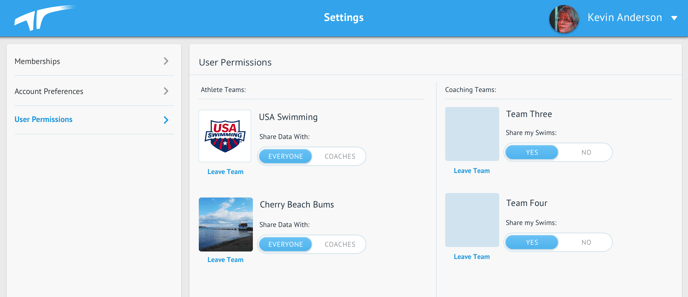 Here you will see all your current team memberships and some Privacy options. Below each team, you will see an option for Leave Team. Click on that and then confirm you want to leave the team.