FIT is a philosophy which if applied alongside TritonWear's technology can help you redefine your limits and improve.
FIT stands for Focused Iterative Training. It's a simple way to ensure you train well everyday.
and involves just 3 repeating steps!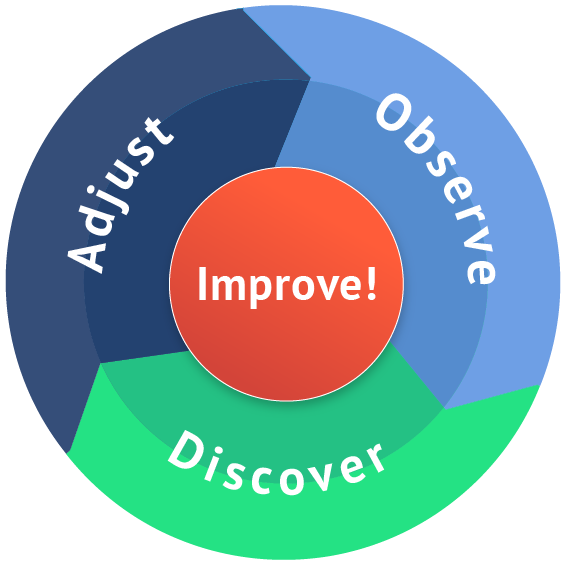 Whether you are a solo swimmer or work within a large team structure, these following three repeatable steps can be your path to continued improvement.
Observe
The first step is to start tracking all your workouts. You'll learn how to capture accurate data, interpret the Triton Score, select your favourite metrics, engage with real time-data and leverage data after practice.
Start a workout and follow a pool workout live or check out your Activity Details and Triton Score after. Spend some time to learn how to understand the metrics your swims produce. You don't need to understand every one but it's useful to identify some that you feel might be helpful for you to track or pay attention to. You will start seeing trends across metrics you excel in and identify others you need to improve on.
We recommend tracking roughly 4 weeks to establish training trends before starting to make data-driven decisions.
Discover
After you spend some time getting to know the Triton Score and how it changes over time you'll need to dive a layer deeper and understand each seperate score. Learn how to understand and use your Focus, Readiness, and Intensity scores to explore your performance in each area. Then dive deeper to see your trends and understand why you are getting a particular score.
Your Focus and your Focus Metrics will offer you great insights into your swimming. You will start seeing patterns in metrics you excel in and identify others you need to improve on. First thing is to identify your biggest weakness and analyze how it's contributing to your overall performance. Your Focus Compare tool will be particularly useful for this. Low scores will offer you the greatest opportunities for improvement. Don't focus on the score, focus on what you can do to positively impact it.
However skill execution isn't everything. For a more balanced picture of your training you should be relying on your Readiness and Intensity scores as well. Readiness will tell you if you are over or undertraining, and if you are exposing yourself to injury risk. Intensity will tell you how hard and fast you have been swimming in your latest workouts. Together these scores should allow you to push yourself to get stronger and build stamina, while maintaing a safe training load, which is more likely to keep you healthy.
Adjust
Analyzing data and turning them into actionable steps on your own can be time-consuming and challenging to manage. Our app breaks that data down into digestible scores and personalized feedback to make it easier for you.
Use the Focus tool and our recommendations to identify patterns and where you need to improve, then set goals to change how you train. Test and iterate your skills until you reach your goals. Then repeat!