Take your marks...Go! The three main activities to set you up for success with TritonWear are: managing your account, interacting with Teams and navigating your data. To keep you leading the lane let's navigate through these together!

Managing Your Account
In the main left menu. You will find your Settings and then your Memberships, Account Preferences and User Permissions.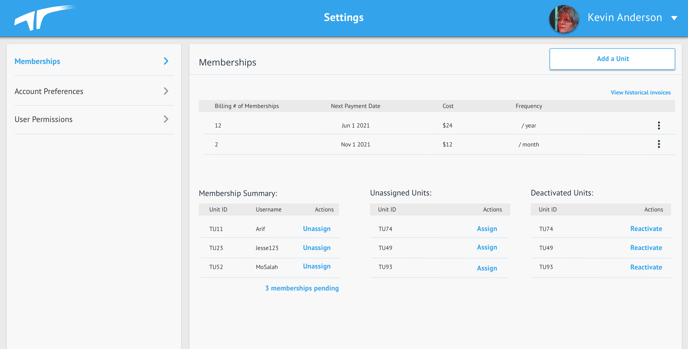 Memberships
When you first receive your new Triton 2 unit, you will need to activate it and add it to your account. Inside the memberships tabs, you can activate/add units, assign units to swimmers or remove and unassign units.
Account Preferences
Here you want to make sure you register the correct personal information (height, birthday, and gender) to build your swimmer profile accurately.
You can also change your default view on your Activities Feed, set your preferred unit measurements and reset your password.
Permissions
Inside permissions, you'll find your Privacy Settings, where you're able to control who can see your data and your results.
Interacting with Teams
Team Settings
There are two ways to engage with Teams in TritonWear; you can either create a team and be the team manager or join an existing team as a member.
Recruiters, coaches, and support staff can use Teams to build and track integrated team structures. With Triton Score, you will know which groups within your team are doing well and which groups require more of your attention.
Individual athletes can use Teams to join their swim club, invite a college recruiter or create their own fun social team.
If you're a Coach using Teams to track and encourage better training, you'll need to set your default view to Team Activities.
If you're an individual swimmer, you'll need to set your default view to My Activities.
Learn more about how to control what you see in your activities feed.
You can only access the Teams section from a browser on your computer or laptop, or from the TritonWear app on a tablet. You may access a single team on mobile by setting it as your default home view in your settings. For more on what you can see using different devices, check out this infographic.
Navigating Your Data
The TritonWear Navigation bar consists of 4 different tabs: Activities, Readiness, Focus, and Intensity.
Activities
The default home page you see when you open the TritonWear app is your Activities Feed.
Once you have completed your workout, the app will prompt you to enter your RPE. The rating of perceived exertion in simple terms means ''on a scale from 1-10 how hard was practice and how much do you hate your coach for it''? It's a love-hate relationship after all.
The Triton Score displayed after each workout is a simple score that ranks your performance to show you how well you are training. It tracks your training load (Readiness), swimming efficiency (Focus) and your effort ( Intensity) for each practice. Yes, you heard right, no more slacking on those walls.
To dive deeper into the Activity Details, click on any of your recorded activities. Your Activity Details will then show you the workout build-out organized by Set, Rep, and Lap. From there, you can select your six favourite metrics and track your performance for each metric.
Readiness
The Readiness Score gives you a quick overview of how safely you're increasing or decreasing your training load. TritonWear AI learns about your past training trends and uses load monitoring principles to calculate how hard you should train to improve performance while minimizing your risk of injury.
Focus
The Focus Score shows you how efficiently you are swimming in terms of your technique. Each of the stroke scores will also offer you insights into which strokes you are ranking well on and which ones you need to work on more.
TritonWear AI takes all this data for you and automates it into digestible scores and actionable insights. You'll know how you are progressing in each stroke and swimming phase (overwater, underwater and transitions) and how well you rank in these compared to other athletes like you (based on height and speed).
Intensity
The Intensity Score shows how hard you trained by calculating metrics like your usual distance, active time vs rest time and speed and then simplifies into a single score.
TritonWear uses AI to set a baseline for your usual speed, distance, and rest time and adjusts it as you improve or train harder, ensuring it's always keeping you on your toes.