You can upload raw data through our TritonWear Update application (download for Mac or Windows). Before you begin the upload, make sure your internet connection is stable and that the devices are completely dry.
To upload raw data:
Log on to TritonWear Update (desktop app) using the same credentials as TritonWear Insights and TritonWear Live, and plug in the device used during practice.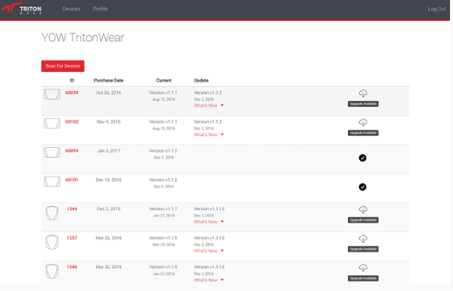 2. Click the Upload Raw Data button. A window will open asking you to explain the details around your upload, to help us categorize and analyze the data. The details requested include:
Indicate if your upload relates to a specific question, or is just a general upload
Enter the date of the swim
Select the swimmer
Indicate the pool size and type (indoor/outdoor)
Describe the entire workout session (sets, drills, etc.)
If applicable, provide a description of the question
If possible, upload a video of the practice or the part relating to your question
Provide any additional general comments
3. Fill in the information and click Upload.
4. Click Yes on the pop up asking if you are sure you want to upload data. The lights on the device will turn purple, and the app will begin to read and upload the data. This process should take no longer than 5 minutes. If it takes longer, stop the process, restart the app, and start again.
5. Once the data upload is complete, the screen will return to display the upload raw data option. You can now safely disconnect your device.
Download TritonWear Update here.