Workout Rating is an important metric that TritonWear needs to calculate Readiness.
Your Readiness score helps you manage your training load and be primed to perform when it counts. For Readiness to calculate accurately, it needs to know how difficult workouts feel to you. Each athlete should enter their Workout Ratings after every workout.
A minimum of 75% of workouts in the past 28 days must have a Workout Rating entered for Readiness to be calculated accurately. Reaching this 75% mark is known as achieving Workout Rating compliance.
💡 There are many reasons why it is important to capture workout ratings, but to start out, workout ratings are turned off, so you can get used to just using TritonWear before we bombard you with questions.
Once you're ready to start rating workouts, just head over to Settings > Preferences (tap the gear

icon) and set Rate Workout to Always
NOTE: This has to be done by each individual, a coach cannot adjust Workout Ratings for anyone but themselves.
How to enter Workout Ratings
Once ratings are enabled, and a workout syncs, the workout card on the swimmer's activity feed will prompt for a rating. We've made it super simple to rate workouts. Simply drag the slider to the desired rating (0 -0 10), indicate if you were injured in the session, and save.

If you are looking at a workout that is not yours, and the swimmer hasn't rated the workout yet, you'll see a card in the activity feed that looks like this: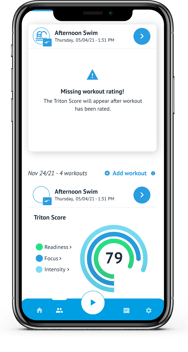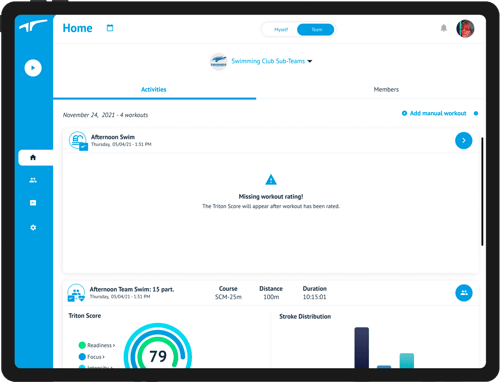 Missed a bunch of workout ratings?
WARNING: There's a known bug with this process. Please don't try this for the time being.
Your Readiness page will let you know how many workouts have not been rated for whomever you are looking at. If it's your own readiness page, you'll have a button that takes you to a list of them all, so you can either skip or enter them.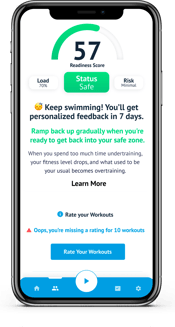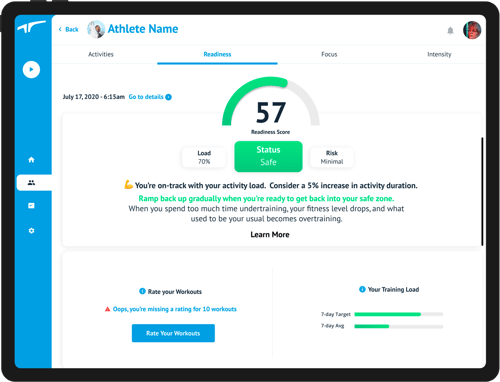 Want to know how to select the right number to Rate Your Workouts? We do have some advice for you. The most important thing is that an athlete is consistent with themselves and does not exaggerate what they felt.