Your main Focus Score is giving you a summary of how you performed in your most recent workout tracked with TritonWear. If you want to see how your overall Focus and Focus per Stroke Type has varied over your last couple of weeks then you need to look at your Focus Over Time time inside your Focus section.
On a mobile you need to navigate to your Focus Section from your main Dashboard. At the bottom of that section you will see the below summary which you can open for more details by clicking on the blue arrow in the top right of that tile.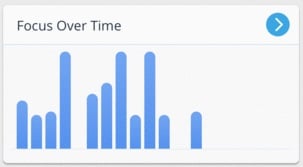 By opening that you will see the below chart. This chart is automatically open on tablet and PC/Desktop.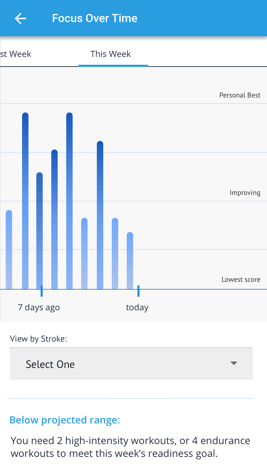 This graph showcases your Focus values from your past workouts over the last 14 days. If no activities occurred on a given day, then the score is blank that day. Please note that you can view your Focus Over Time by Stroke Type by selecting a stroke from the drop down menu below the main graph.
.