Focused Iterative Training, FIT, is a simple way to ensure you can use data to train well every day and involves just 3 repeating steps.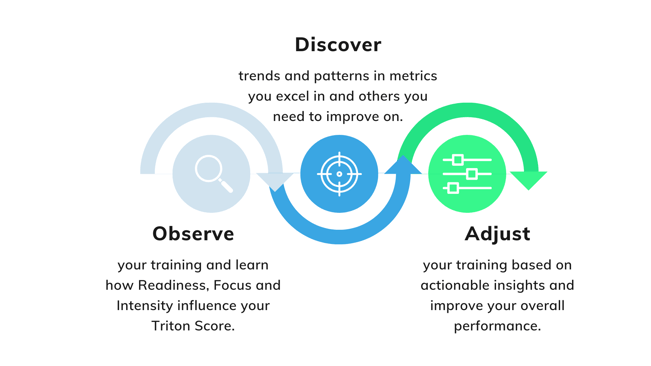 Whether you are an individual swimmer or a Head Coach overseeing a large club, these following three repeatable steps can be your path to continuous improvement.
Observe
The first step to success is getting familiar with the new TritonWear app and your Triton 2 unit . During this time you will learn how to:
Capture accurate data


Position. The unit should be placed on the occipital bone, just above the nape of the neck.

Orientation. The unit should be positioned vertically and in the head's center.

Consistency. It is important to place your unit the same way for every workout. Being consistent will help the algorithm recognize your specific movements and create your unique swimming profile. Shifts in placement and orientation can throw the algorithm off.

Learn more: Triton 2 Unit Placement
Interpret the Triton Score
Select your favourite metrics
We recommend tracking roughly 4 weeks of training before making any data-driven decisions, as time unfolds and you become familiar with your scores you may find that you need to shift your focus on improving other things first.
Discover
After you spend some time getting to know the Triton Score and how it changes from practice to practice you'll need to dive a layer deeper and understand each score separately.
In the app's activities tab, you can view your Triton Score, along with each of your Readiness, Focus, Intensity scores and understand how each score ranks in comparison to the other.
Your Focus Metrics will offer you great insights into your swimming. The first thing is to identify your biggest weakness and analyze how it's contributing to your overall performance. Identify the specific metrics you will focus on first. For quick access to insights on each of the metrics identified, you can set them up as your ''favourite metrics''. Then set a goal and monitor your focus comparisons.
Your Focus Comparisons

will be particularly useful for this. The Compare To Myself will show you how your skills are ranking now and how they're progressing overtime. Low scores will offer you the greatest opportunities for improvement. Don't focus on the score, focus on what you can do to positively impact it.

However, skill execution isn't everything. For a more balanced picture of your training, you should be relying on your Readiness and Intensity scores as well. Readiness will tell you if you are over or undertraining, and if you are exposing yourself to injury risk. Intensity will tell you how hard and fast you have been swimming in your latest workouts. Together these scores should allow you to push yourself to get stronger and build stamina while maintaining a safe training load, which is more likely to keep you healthy.
Adjust
Analyzing data and turning them into actionable steps on your own can be time-consuming and challenging to manage. Our app breaks that data down into digestible scores and personalized feedback to make it easier for you.
Use Focus Comparisons (Myself/Like Me) and your app recommendations to identify patterns in your swimming and where you need to improve, then set goals to change how you train. Test and iterate your skills until you reach your goals. Then repeat!