TritonWear allows you to create teams within teams as subdivisions, to reflect the structures of federations, clubs, schools or universities.
If you coach within a larger organization, a National Federation, or even a club with several squads and age groups, then it's very important to understand the team structure and how to build out your team hierarchy.
How to Setup your Team Structure
It is very important to make sure you are creating a team at the correct level in the overall team structure, as they cannot be moved once created. Team structures typically starts with a top team and then squads or teams beneath, similar to a traditional organizational chart as seen below. Here are a few examples:
National Federation:
In this structure, the top level is the national governing body, the next layer perhaps High-Performance Centers at the state/provincial level, then Regions/LSCs, and finally local clubs. In this structure, swimmers would typically exist only at the State/Provincial and local club levels, with the top and regional layers being only coaches or support staff who may be providing input to grow upcoming champions from lower layers.
Large Multi-Location Team:
This structure could represent a huge club with satellite teams in different cities entirely, or it could be a club with several physical locations in one city where different squads train. It might begin with a top-level team, or parent club, then separate groups for high performance and development programs, then split into the age group and senior squads, and continue to split into lower squads if necessary given the size of the team.
In this case, unlike the federation structure, each layer would contain both swimmers and coaches, and any associated support staff who work with the group.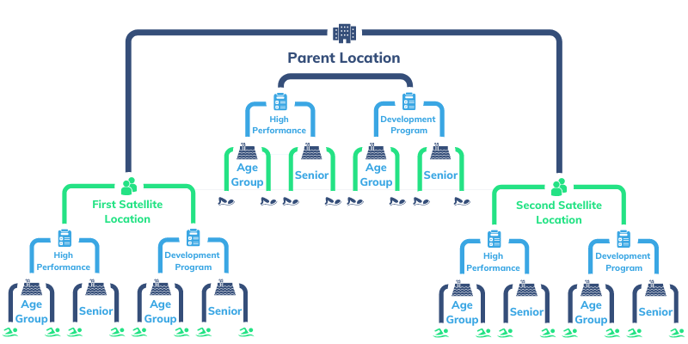 Simple Team structure
This team structure applies to groups like typical club teams, collegiate, or high school groups. The two sides of the graphic below outline how these might be set up.
Here the top-level is a place-holder similar to the Federation structure. The second layer might either be a split of high performance vs development for a club or high school, or perhaps men and women for collegiate or high school teams. The third layer may split out high performance from Development programming for a club, or sprint vs distance squads for collegiate programs. The third layer might break athletes into regular training vs taper or returning from injury groups, and a club team may break them out by senior vs age group and then add additional layers below for duplicate squads to maintain desired coach:swimmer ratio.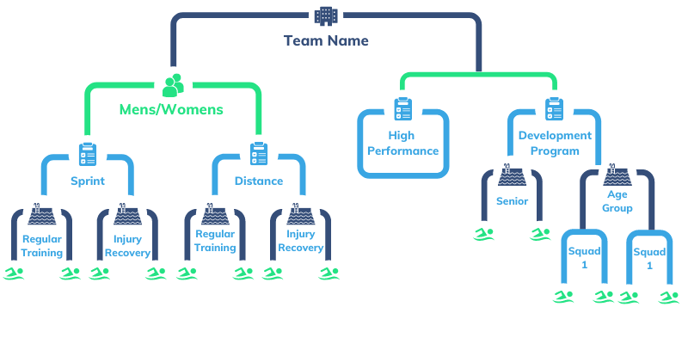 There is no set limit to how many levels of teams you can create but as a general guide, you should try to recreate the real-life structure you are working with, and know there is the flexibility to add additional layers and create breakout groups at different levels if needed.