TritonWear allows you to create teams within teams as subdivisions, to reflect the structures of federations, clubs, schools or universities.
If you coach within a larger organization, a National Federation, or even a club with several squads and age groups, then it's very important to understand the team structure and how to build out your team hierarchy.
Note: You can only access the Teams section from a browser on your computer or laptop, or from the TritonWear app on a tablet.
You may access a single team on mobile by setting it as your default home view in your settings. For more on what you can see using different devices, check out this infographic.
Step 1: Create Your Team
If you are beginning without any team, you will see a blank page as below, and from here you can create a brand new team.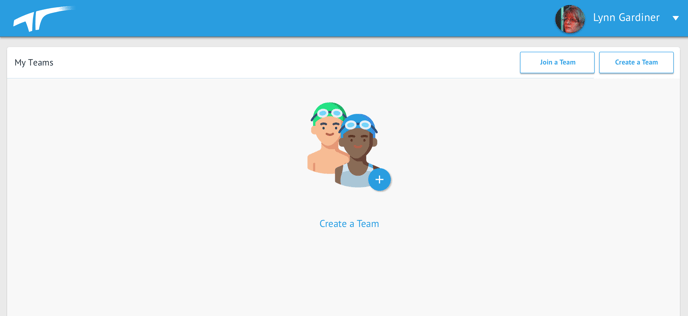 If you plan on making a multi-level team this first team will be the top-level, whether that be something like the National Federation, the College, or the Club.
Step 2: Create Your Sub-Team
Once you have created the team you can enter that team's Team Hub and create more teams within that team. Anyone who has an Admin or Coach Role on the team can do this.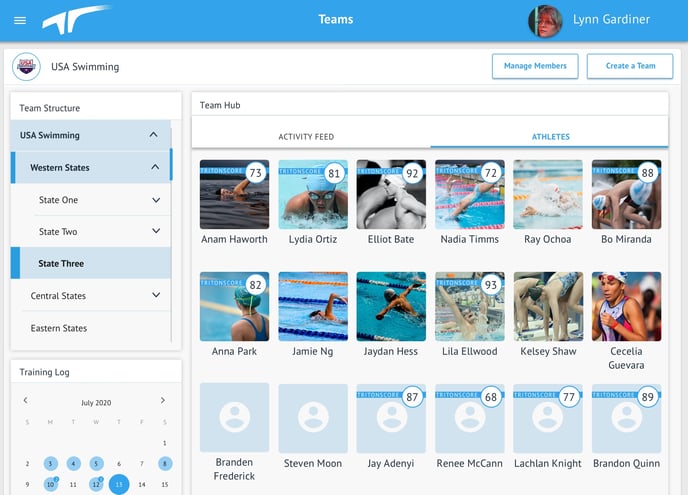 Teams created within a Team Hub will exist WITHIN that team. In a simple structure, you might create some squads within your club team.
At a National Federation level that could be creating regional groups, and within those regional groups more specific groupings, with as many levels as needed to eventually create a large organizational structure like this diagram.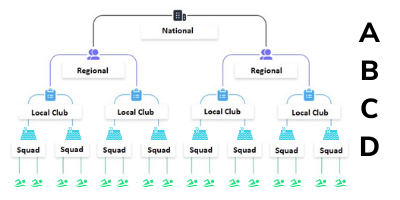 In the example above, a team created at the B level will create a new team in the C group. If you were to create a new team from the C group you would create a sub-squad in the D level.
How does a Team Structure look like inside TritonWear?
Within TritonWear that might look something like the example below.
In the left-hand menu for Team Structure, the top-level for example a swimming federation is labelled as A, then within that, there is a B level separate to Central, Eastern and Western divisions and a C level with all the different states under each division.
To make more levels within your Team Structure you must press Create a Team. You can tell which team you have currently selected by the colour of your selected team on the left-hand menu and by Team Name displaying in the top left of the Team Hub.
There is no set limit to how many levels of teams you can create but as a general guide, you should try to recreate the real-life structure you are working with, and know there is the flexibility to add additional layers and create breakout groups at different levels if needed.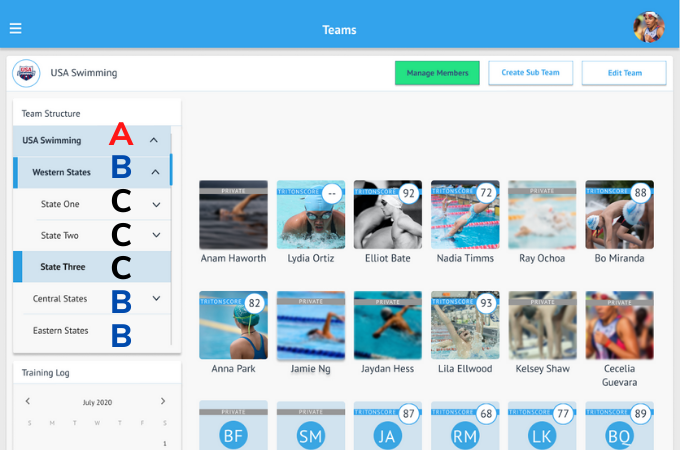 Note: Coaches can only view the results of teams they are specifically added to, while Admins keep their permissions to view athletes' results DOWN the structure.
In the example above, an Admin on the Western States team (level B) would be able to monitor the progress of all athletes on State One and State Two (level C). Learn more about the different Roles and your Team Management options.